Ultrasonic - refined and grandiose
The environmentally friendly and energy-efficient joining technology
75 % less CO2 emissions
Ultrasonic technology, compared to other thermal processes, is fast, efficient and environmentally friendly in the processing of thermoplastics, films and fabrics. Our products are used in all plastic processing industries, for example automotive interior and exterior, filtration, hygiene, technical textiles, packaging, but also in environmental technology. With the use of ultrasonic, only a quarter of the electrical energy required for production is needed compared to thermal processes. CO₂ emissions are therefore reduced by around 75 %.
GREEN SONICS

 the brand for future-proof and sustainable ultrasonic technology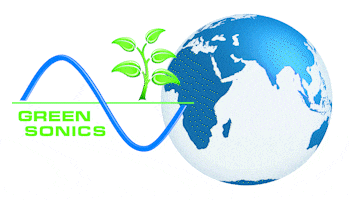 Processing plastics with ultrasonic not only has advantages in the process, but is also significantly more energy-efficient and environmentally friendly compared to processing with thermal methods. Ultrasonic scores particularly well due to its low energy consumption: the energy supply does not take place continuously, but only during the welding time. The ultrasonic welding process itself is very short, which also reduces energy requirements. In addition, the ultrasonic tools are cold during the entire process, which means that neither they nor the machine need to be warmed up. 
The electrical energy requirement for production using ultrasonic is reduced by three quarters compared with thermal processes. In addition, the technology is characterized by the fact that the ultrasonic tools are low-wear and no combustion residues of the plastic adhere to them. At the same time, neither the environment nor people are polluted by harmful gases from burnt plastics.

Ultrasonic vs. Hot stamp vs. Hot air
Comparison of the three riveting methods

Riveting of plastic rivet domes
In a test setup, thermoplastic moldings are riveted using the three different processes ultrasonic, hot stamp and hot air. The three processes are compared on the basis of various parameters.
Material: PP-GF20
Dimensions [mm]: D = 8; D = 5,5; H = 8,5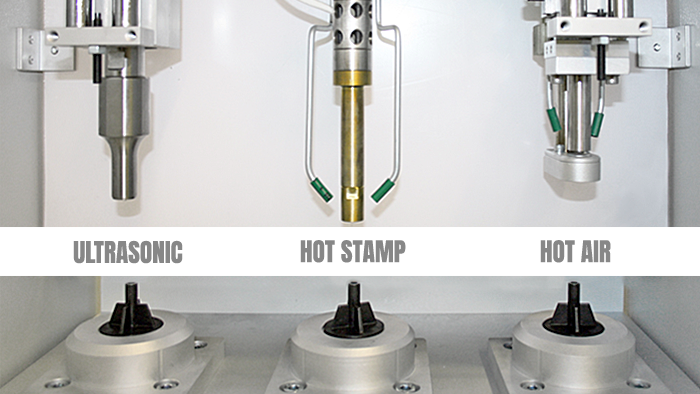 The ultrasonic vibration generates interfacial friction in the rivet dome via the tool. The rivet dome plasticizes and is reshaped in the process.
Feed unit in home position
Feed unit in working position
Ultrasonic on: 4.5 s
Ultrasonic off, dwell time with cooling on: 3 s
The tool is heated electrically via a heating cartridge. The rivet mandrel is plasticized by the contact heat of the tool and is formed in the process.
Feed unit in home position, riveting punch at processing temperature: several minutes (before production start, continuous reheating necessary)
Feed unit in working position
Embossing time: 12 s
Dwell time with cooling on (air flow on heating plunger): 5 s 
The rivet dome is heated via hot air (contactless). The cold riveting die reshapes the plasticized rivet dome.
Feed unit in home position, heating up of the system: 10 - 15 s (once at the start of production or longer downtimes)
Feed unit in working position
Heating of the rivet dome: 9-11 s
Heating off, embossing cylinder in working position for shaping and cooling: 3 s
Comparison*
* The values are based on average values from several tests.

 
Ultrasonic riveting
Hot air riveting
Hot air riveting
Welding pressure [bar]
2.5
4.0
3.5
Cycle time [s]
9.5
19.0
15.0
Cooling time [s]
3
5
3
Retention force [N]
522
486
933
Energy requirement/
cycle [Wh]
0.1
1.9
3.3
Air consumption/
cycle [l/min]
15
25
35
Conclusion
Under the same test conditions, ultrasonic riveting shows the best results:

Lowest energy consumption (significantly)
Shortest cycle times
High tensile strength

Ultrasonic riveting is also superior to the other two methods in requirements such as process safety and process monitoring.
Ultrasonic riveting is also suitable for riveting deep-lying rivet pins or rivet pins placed on vertical walls.
The additional costs of equipment with ultrasonic technology (approx. 5 to 8 %) are quickly redeemed through savings in energy requirements and process time.
Ultrasonic technology enables a combination of several applications in one plant: e.g. riveting, welding, cutting and punching.